Bebo's sunscreen SPF 50 + won prizes in two categories at one of the most renowned international contests for cosmetic products worldwide.
BSB Innovation Awards aim to distinguish the most innovative and natural cosmetic products on the European market. The first ever awards were held in 2003. Since then, the biggest world-known cosmetic brands have been taking part in this contest annually, competing with many other international products.
The product Bebo's sunscreen SPF 50+ received two awards in the following categories:
2nd Prize: Most Innovative Packaging
3rd Prize: Most Innovative Cosmetic Product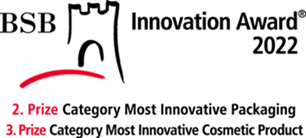 The company acknowledges the great support of its team which proudly stands by the creation of Bebo's sunscreen SPF 50 +. They expressed their gratitude towards Avans Trading Ltd. and their technologist. Bebo also gave special credit to their partners from STS Cosmetics and LS Tubes (members of RIC Gabrovo) who actively participated in the development of this product's formula and contributed to the high quality of the package.
The award-giving ceremony was held online. A record of the stream can be found on this link: https://www.youtube.com/watch?v=7uVdVrZkZ0Uon